Best Nursing Pillows of 2016
Last Updated:
April 15, 2016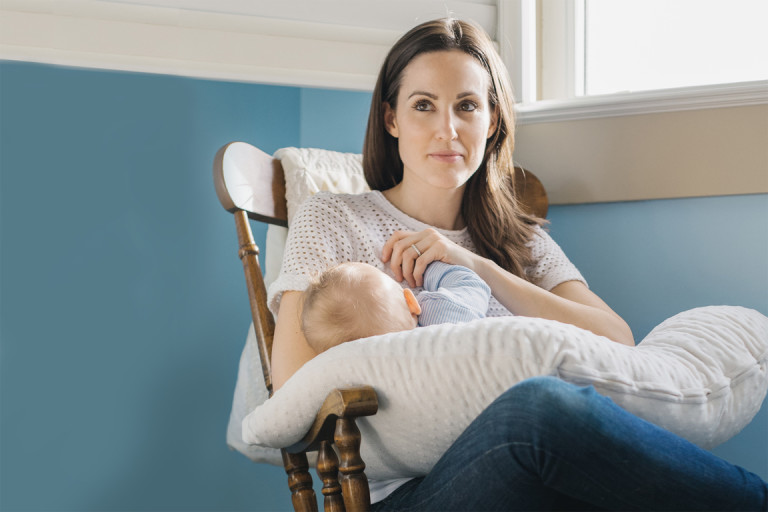 If you are breastfeeding, the process can be exciting as well as a bit tricky. A nursing pillow is a great product to have by your side to make the experience easier.
What is a nursing pillow?
There will be lots of little things to get the hang of if you plan to breastfeed your baby, one of which is getting your little one into a good nursing position that's comfortable for both of you and ensures a great latch. A nursing pillow helps with this, accommodating for your newborn's lack of head and neck control by keeping baby propped to the breast. Nursing pillows also take the weight off your arms and back - even a tiny baby becomes surprisingly heavy to hold in the same position for an extended time. Nursing pillows sit in your lap and wrap around your body, providing a stable and comfy surface to position your newborn at the breast, and allowing you some comfort and relaxation for the nursing hours ahead.
Do you need a nursing pillow?
It's definitely not required to have a nursing pillow- you can nurse effectively using just a regular pillow. But many new moms find the special design and bonuses of nursing pillows to be super useful during the first months. If you don't plan to breastfeed, a nursing pillow can still be very helpful with making bottle feeding a comfortable, bonding experience. We suggest putting one on your registry, because they make great shower gifts too!
When do you need a nursing pillow?
You'll most likely use a nursing pillow every time you nurse, which can be a dozen times a day (or more!). After the first 4-6 months, you may no longer need the pillow to feed your baby because they will have more head and neck control, plus you may have gotten the hang of nursing comfortably on your own. However, nursing pillows can still be used for tummy time or as a spot to cradle babies who can't yet sit up on their own. Many babies seem to hate being on the floor for tummy time in the beginning, so a nursing pillow can be used in transition to help prop them up, giving them a better view and more interaction with you and their toys.
How we chose our best picks
We asked thousands of real BabyList families about the baby products they love the most, now that their little one has arrived. We took the top feeding products they shared with us and added our own research and insight. Here are the top nursing pillow picks we think you and your baby will love.
The Versatile Pick
WHY WE LOVE IT
Boppy is the original, U-shaped nursing pillow first introduced 25 years ago and it remains the #1 most popular nursing pillow on the market. It's machine washable for the inevitable spit up or unfortunate diaper explosion. We love it's versatility: it can be used to help cushion babies working on sitting, cradle a lounging baby, or prop to make tummy time more enjoyable. It's so popular that makers and Etsy sellers have even made gorgeous, unique slip-covers that can complement your style or nursery.
"probably my most used baby item"
KEEP IN MIND
For some parents, especially those with squirming little ones, the Boppy's rounded surface has been known to cause baby to roll into the space between parent and pillow.
WHAT BABYLIST PARENTS HAVE TO SAY
"I've used it for every stage of development [and] baby care from newborn to present (7 months). Breastfeeding, propping him up, tummy time, learning to sit up, a pillow to catch him when he falls over while sitting up/playing, a comfy place for a catnap supervised on the couch…used almost everyday." -Emily S.
"It's probably my most used baby item. Puts baby at a comfortable height for nursing. My little one falls asleep on this often. Great for babies that don't like tummy time like my little one!" -B.B.
Find more information from BabyList and Amazon.
---
The Ultimate Feeding Pick
WHY WE LOVE IT
Even though this pick isn't a multi-tasker, it's an excellent nursing pillow with helpful features other pillows lack. Designed solely for breastfeeding support, My Brest Friend wraps around you, has a back support cushion, and attaches to itself to prevent it from moving out of place. The genius front pocket is great for holding your water bottle, nipple cream, protein bar, or other goodies you might need while nursing. My Brest Friend provides a flatter surface than the Boppy so baby is stable and won't roll into the space between pillow and parent. While we love the many versatile uses of the Boppy, the My Brest Friend offers more features perfect for just nursing and feeding.
"this saved my life in the first few months"
KEEP IN MIND
Strapping into this pillow can be a chore when there is a very hungry baby waiting. And while the pillow cover is machine washable, the foam pillow is not.
WHAT BABYLIST PARENTS HAVE TO SAY
"I have both this and a Boppy and this wins hands down. It's firm to support even the tiniest of babies. It has a seat belt which sounds weird but it really helps keep the pillow in place. And it even has little [cushion] bumps where their head rests. Breastfeeding can be hard in the beginning and anything that can help is a godsend. I still use this at every feeding and my daughter is 5 months old." -Nicole O.
"This saved my life in the first few months of my daughter's life trying to breastfeed her after having a c-section. My Boppy was too small but this fit comfortably around me. I loved the pocket for breast pads and also the TV remote." -Kimberly F.
Find more information from BabyList and Amazon.
Honorable Mentions
---
The Eco Pick
WHY WE LOVE IT
This unique and premium brand nursing pillow has a square and funky design. It functions the same as other nursing pillows for feeding and as a prop and lounger, but the Niche is made with lightweight and breathable organic materials- and is still machine washable! This is a great option if you like natural and well designed baby gear.
WHAT BABYLIST PARENTS HAVE TO SAY
"I have used EVERY SINGLE nursing pillow out there. Not only is this an all organic pillow both inside and out (hard to find!) it is hands down the absolute best on the market and worth every penny. This pillow doesn't allow the baby to slip downwards, it keeps it shape, the pillow covering is thick and comfortable, [and it] washes wonderful and doesn't shrink!" -Jenna O.
Find more information from BabyList and Amazon.
---
The Value Pick
WHY WE LOVE IT
The very popular Dr. Brown's bottle brand makes this crescent shaped nursing pillow, which angles toward the parent, placing your baby higher up (less bending for you!) and preventing your little one from rolling away. You can also use it as a comfy prop when you aren't feeding. Usually discounted down to $20 or so, it's a great budget pick, especially compared to some of the other top nursing pillows.
WHAT BABYLIST PARENTS HAVE TO SAY
"This nursing/feeding pillow was much more comfortably shaped for both myself and my husband (who could not use the Boppy at all) to feed our baby. It fit different nursing positions more easily as well." -Bethany
Find more information from BabyList and Amazon.
---
New Kid on the Block
WHY WE LOVE IT
This brand new product from Ergobaby (the same folks who make awesome carriers) is making a splash in the nursing pillow market. The Natural Curve's unique form cradles your baby, creating tummy-to-tummy contact while keeping your arms free. Plus, the firm foam makeup of the pillow is designed to position baby at a comfortable height and prevent strain on your back.
Find more information from BabyList and Amazon.
---
Choosing what's right for you
Choosing the best nursing pillow for you can help make breastfeeding a little easier. Think about where and how you'll be feeding and decide on a product that will be useful for you. With hours of nursing ahead, you should feel as supported as possible!